I am happiest when working on the spot, en plein air, whether with a sketchbook with the idea of producing work that can be developed in the studio, or with an easel for oils or paper for watercolour, where the aim is to end up with a finished painting. Inevitably, it doesn't always work out the way I intend and other factors like the weather and wildlife can play a part but for me work produced on location will almost always have a vibrancy and appeal that is absent from a carefully produced studio work. Photographic references are inevitable of course but smart phones and cameras frequently distort images and change perspective and are not always very accurate with colour and most importantly, they lack the selective ability of the painter's eye, that decides what is important and what isn't.
Most of the time these days I produce pen and wash watercolour sketches in Khadi sketchbooks. Khadi is an Indian paper and their handmade sketchbooks are a delight. They have a somewhat rough finish and they occasionally fall apart but the paper is beautiful to work on and the slightly rural appearance of the books is a great encouragement for not trying to be too neat and tidy. I normally use their 20 x 20 cm size and if I need a wider format, I can work across 2 pages.
Click here to go to the next working methods page - Watercolour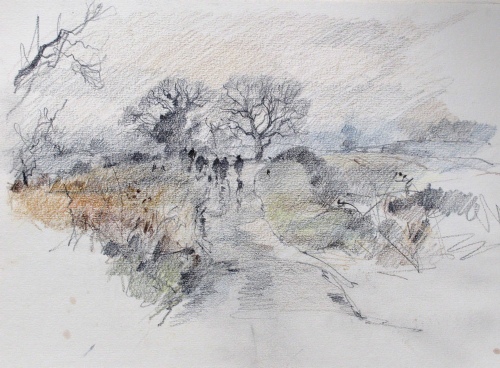 'Ricky's beaters in Gaol Lane'
This a hastily scribbled sketch in pencil and crayon in a small cartridge paper book.. It was raining, the beaters weren't going to be there very long - it had to be quick. The roughness and lack of detail doesn't matter as the sketch captures the wet and wintery day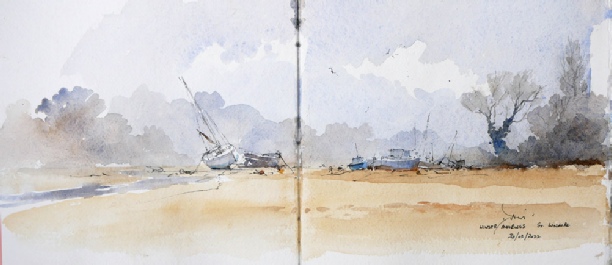 Winter moorings, St. Lunaire
Pen and wash sketch, painted sitting on a stool with the work on my lap, paintbox in one hand, brush in the other.
I use a Frazer Price watercolour box, not one of the collectable originals but a modern reproduction. It takes 18 half pans or a combination of half and whole pans, a supply of water for at least 2 decent sketches and has a reasonable amount of mixing space and folds up to compact and pocketable size. I work with an Escoda Size 12 sable travel brush and the pen is usually a Faber Castell waterproof 'Pitt' series.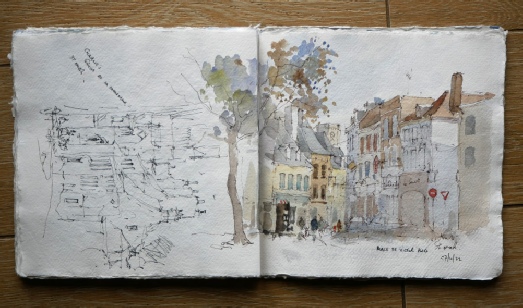 2 sketches for the price of one!
These 2 sketches were made in St. Omer in northern France and shows how a sketchbook can encourage a relaxed an informal approach to painting. Place Victor Hugo in colour and then a quick pen sketch on the opposite page.