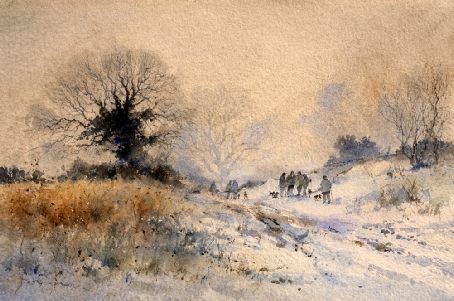 Stearsby Beaters - W/col 33 x 49 cm
This winter watercolour was painted from a pencil scribble at the time and a further visit to get a little more detail of the scene. I love the blackness and shapes of the big tree and the hedge and how it contrasts with the ochres of the dead grasses in the foreground, whilst the sky colour is somewhat ominous and threatening fiorther snow. This painting was exhibited and sold at the Royal Institute of Painters in Watercolours exhibition at the Mall Galleries in London last year.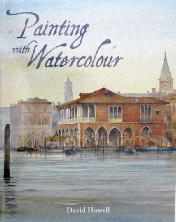 The watercolour book launched last year has been very popular with excellent revues.and along with its sister volume 'Painting with Oils' has now been scheduled for re-printing. Both books are available directly from the publisher, Crowood Press at www.crowood.com or alternatively from major internet art material suppliers, Amazon or your favourite bookshop. APV films who made the film 'Just Watercolour' are offering both the book and the DVD as a special - see www.apvfilms.com for a trailer of the film and how to order.
Already the evenings are getting lighter and the surrounding countryside is wet, muddy and despite initial impressions, remarkably colourful if you take the time to look. In these condition you can forget watercolour in any serious manner - it just won't dry quickly enough but these days I frequently resort to a combination of a PITT waterproof artists' pen from Faber-Castell and watercolour with a Winsor & Newton bottle box and retractable brush. All very lightweight to carry about but surprisingly effective as a way of gathering material for painting in the studio.. I will put some of these sketches on the site in the next few days.
As a complete change to winter in Yorkshire I will be working in India next month. This is completely new territory for me but again sketches and paintings will be shown here in due course.