As a landscape painter, I'm well aware that the countryside around my studio changes every day. Different weather conditions, the light and the process of changing seasons, means that every day is different but nothing makes such a dramatic change as snow. Outside the studio at the moment, the snow is either sparkling in sunshine or partially obscured by the next wind driven flurries - proper winter stuff and it transforms well-known landscapes into new subjects. From a painting point of view a little serious observation tells you that, rather surprisingly, most of it isn't white because it reflects the colour of the sky and shades and tones vary with the contours of the land. Cold blues, mauves and occasionally even colder greens are apparent, particularly in the foreground, with odd bits of vegetation sticking through. As ever, paint what you see! The spaniel and I have been out and about, taking exercise, sketching and sniffing about (mostly her!).
Sun breaking through the fog - a view through a gateway that looked so different in the snow - 26 x 26 cm watercolour painted on Khadi 320gsm handmade paper.
This is a much bigger 34 x 52 cm watercolour based on a sketch in the snow, imagination and local knowledge. The beaters are largely invented - there hasn't been much shooting this season and it ends anyway at the beginning of February. Again painted on 320 gsm Khadi paper.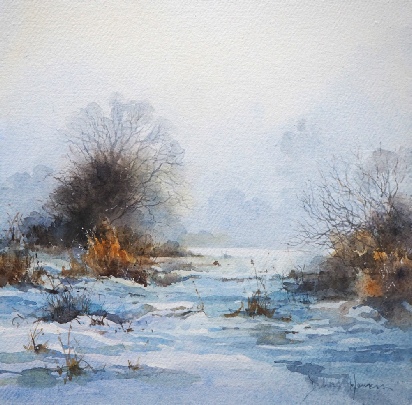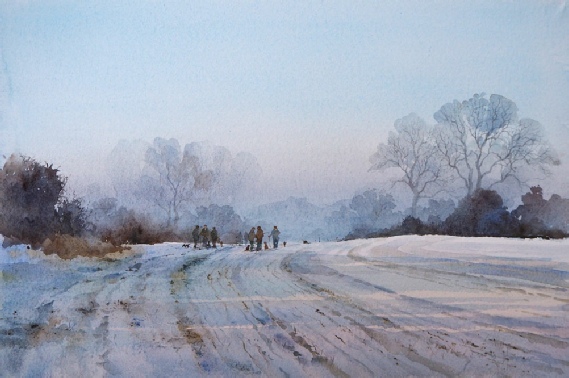 And now for something completely different - as they used to say on Monty Python - and as a complete change to what's happening outside, this half sheet watercolour was painted from sketches made at St. Catherine's Monastery in the Sinai Peninsular, Egypt a few years back. The great thing about sketches is that you can always go back and remember when they were made, much more so then photographs and they make working in a locked down studio much more interesting.